The other day I stumbled across this little webcomic: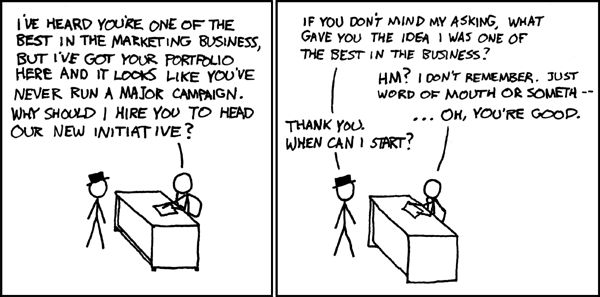 These days we hear so much about "Social Media"- the "Word of Mouth" in the comic.  And while all these things are great, sometimes they aren't enough to consistently close sales.  Customers in highly competitive industries want tangible evidence that they are choosing the right company or vendor to provide critical services.  All too often it can be difficult to differentiate your company from the competition.
But what if you had just such a tangible asset to use in your pitch to potential customers?  Chronotek can be such an asset, with something we call the "Chronotek Advantage".  Potential customers want to know that the services they are paying for are being delivered in the most efficient manner possible- and Chronotek allows you to give that assurance.  In service industries where time worked is a huge part of the cost, Chronotek demonstrates that you are dedicated to tracking this expense down to the second.
Having positive word of mouth and "social" marketing is important- But with the "Chronotek Advantage", you can give those potential customers tangible proof of your commitment to details and quality.